12 DAYS DESERT SAFARIS INSTYLE
Type of safari- Adventure Safaris
Destination - Kenya
Itinerary Summary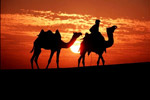 This rugged 2,500 kilometre is either done in a purposely-built truck or a land cruiser that takes you up into the heart of the Northern desert lands of Kenya. You will traverse along some of Africa's most adventurous regions, see beautiful mountain forest surrounded on all sides by hot desert, eventually arriving in the Jade Sea (Lake Turkana). You will see a great variety of tribes and cross the Chalbi Desert. Please note that during the rains many of these areas become impassible being subject to floods. Therefore in the months of April, May and June it is not advisable to take this tour.


1 DAY Nairobi-Meru National park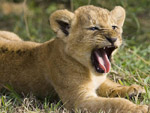 Depart Nairobi heading to north via Equator line where you will stop for photos .proceed to Meru National park,arrive at the gate and start a game drive enroute to Elsa kopje Luxury camp. Have your lunch and relax till 0400hrs and start an evening Game watch upto sundown.


2 DAY Meru national park
Spend you day for the game viewing at Meru National park,where you will have some memomries of the ;BORN FREE;Film acted by :J/George Adamson,who spent most of their time with their adaption lions.Dinner/overnight Elsa Kopje Camp


Day 3: Meru National park -– Samburu/Shaba National reserve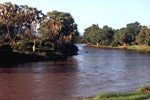 Depart Meru National Park in the morning heading north via the shoulder of Mt. Kenya to Samburu Game Reserve. Arrive at Sarova Shaba lodge beautifully set under a canopy of trees or pitch in the tents set on the Ewaso Nyiro River. Spend your day a game watch till evening time:Dinner/night Sarova shaba lodge/Camp site.


Day 4: Samburu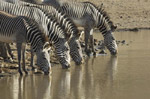 Morning and afternoon game viewing in Samburu. Elephant abound the park. You may also see Lion, Reticulated Giraffe, Gerenuk, Grevys Zebra and the Beisa Oryx. Dinner and overnight in your campsite/Sarova Shaba lodge


Day 5: Samburu-Marsabit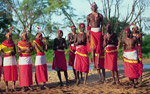 We head north again along the Trans-African highway to Marsabit, which is an extinct volcano heavily forested on its upper slopes. After setting up camp, we will visit the lodge inside the National park. You may see Elephant, Buffalo and the Greater Kudu as the lodge is situated on the edge of a water filled crater. We do not go further into the park as thick forest hampers the progress of large vehicles and viewing is difficult. Dinner/overnight,Camp site/Marsabit lodge


Day 6: Marsabit - Kalacha
We visit Marsabit town and another volcanic crater before making our way back into the desert and lava flows. We camp at Kalacha, a small settlement on the edge of Chalbi desert.


Day 7: Kalacha - Lake Turkana
We depart early crossing the Chalbi Desert. The desert cannot be crossed if wet but there are alternative roads around the North and South. We arrive at our semi permanent beach camspite just outside Loiyangalani soon after lunch. Or in the Tented Camp .Dinner/overnight teneted camp or Campsite

Here we have our traditional Turkana huts with a cool breeze blowing from the lake for use if available otherwise we pitch tents in alternative campsite. Indeed otherwise a perfect place to relax protected from the searching sun and heat characteristic of the harsh climate of this remote area.


Day 8: Lake Turkana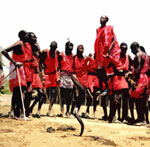 We spend the day relaxing and bathing only interrupted by a short boat excursion to visit the surrounding areas. In addition, we visit Loiyangalani and the community settled there, while in the evening we may visit one of the Turkana Manyattas for traditional dances under a star studded sky at an extra cost if clients wish.


Day 9: Lake Turkana - Maralal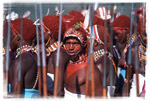 We journey via South Horr and Baragoi to Maralal, another forested area. The Samburu abound in their red-ochre. You will visit Maralal national reserve for game viewing.You will spend your Dinner/lodge in the Campsite


Day 10: Maralal –- Lake Baringo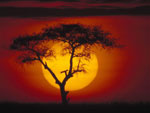 Depart early in the morning to Lake Baringo,arrive time for lunch .relax till 0400hrs and make a boat ride to the Hunting Crocodiles and some birds.Return to the Lodge for Dinner/overnight.


11.Day:Baringo-Lake Bogoria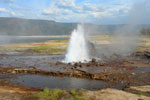 Wake up early in the morning for full breakfast and take your ride to the Island where you will explore some local people of Njemps.Then leave the island and depart to lake Bogoria.Arrive time for lunch.Relax till 0400hrs and make a game drive with Visiting the Hot water springs(Geyshir).upto 1630hrs .Dinner/overnight Lake Bogoria Resort/spa.


12.Day Lake Bogoria - –Nairobi
Wake up early in the morning for a cup of coffee and begin a game drive upto 0900am,drive back to the lodge for fullbreakfast and then depart to Nairobi. Arrive late afternoon.


What is included:
Transport with a 4x4 jeep
Driver Guide/cook
Mineral water
Fullboard Accommodation
Park fees
Rescue insurance
Extras:Drinks like Beers